What's New With Amy London?
Dear friends – I am so excited for my European tour with The Royal Bopsters! Please see the Performances page for details, and if you are in Europe in July, come on by!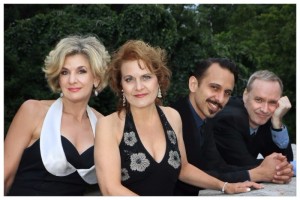 In addition to these fabulous gigs, I am thrilled to be celebrating my 10th Anniversary at Veneto Jazz Summer Workshop in beautiful Chioggia, Italy. I'll be singing and teaching, alongside these renowned folks: Big Band director Ambrogio De Palma, pianist Aaron Goldberg, saxophonist John Ellis, drummer Jeff Hirshfield, bassist Stefano Senni and guitarist, Rory Stuart. There is a wonderful variety of jazz classes during the day, cocktails on the piazza at sunset, and jam sessions and faculty concerts every night, capped off by a gorgeous student concert under the stars on the last night of the workshop. There is still time to register! Contact Elisa at venetojazz.com. Please join us in Bella Italia!
Happy Summer!!
xoAmy
Dear friends-I hope this Autumn in New York is treating you all well. What a gorgeous time of year!
I will be singing with the wonderful guitarist Saul Rubin this Thursday night, November 3, at Le Cheile in Washington Heights. There will be only one set, at 8 PM. Please join us for some great food, cocktails and music. $15 cover, $5 minimum.
Please make reservations at JazzWaHi.com. This vocal series is curated by Louise Rogers.
Hope to see you this week!
xoAmy
Amy London Sings with Saul Rubin, guitar
Le Cheile
839 West 181 Street
Washington Heights, NY
10033
212 740 3111
amylondonsings.com
motema.com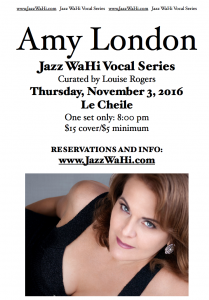 I am proud to announce the huge success of The Royal Bopsters Project. This project was a dream that I had back in 2010, when I became close friends with Mark Murphy, and while my former New School student, Dylan Pramuk, was bringing great vocal jazz group charts to my Vocal Jazz Ensemble at the NS. The Ensemble, along with me, soprano, the swinging Holli Ross, alto, and wonderful bass, Dylan Pramuk, performed with Mark in the Jazz Presents concert series at the NS in December of 2010. Mark agreed to record with us afterwards, and the amazing Darmon Meader joined us to create this very special vocal quartet. We continued inviting our Royal Bopster heroes onto the project. Annie Ross, Jon Hendricks, Sheila Jordan and Bob Dorough all graced us with their recorded presence, and this CD is the result of a 5 year endeavor, a dream come true.
Upon it's release on the motema label, and after a sold out 6 night run at NYC's Birdland in September 2015, the CD garnered rave reviews across the board, maintaining 14 weeks in the Top 30 on the jazz radio charts, and was voted amongst the Best CD's of 2015 by Downbeat, JazzTimes, All About Jazz and Talkin' Broadway. It was pure heaven to be joined on the stage at Birdland by the Royal Bopsters: Jon Hendricks, Annie Ross, Sheila Jordan, Bob Dorough and Andy Bey. What a great honor to sing with our heroes. Sadly, our beloved Mark Murphy could not join us, and he passed away on October 22, 2015, although he did get to hear and enjoy the CD before he passed. It was amazing to record with this legendary master, who has been an enormous influence and dear friend to so many of us. We will miss him and keep him in our hearts forever, and always cherish the lessons we learned from him.
In early Spring 2016, we were guests on Michael Bourne's Singers Unlimited show, and we thank him and his fellow announcers at WBGO for their continual support of this very special recording. We also gave a concert in the Jazzstock series in Woodstock, NY, with the adorable Sheila Jordan, on April 30, to an enthusiastic audience.
We were so honored to work with the brilliant Darmon Meader of the NY Voices. His contribution to this project was priceless. He has returned to his fabulous group full time, and we now are thrilled to welcome Pete McGuiness as our new tenor. Pete has been nominated for Best Arrangement Grammy's three times, is an incredible scat singer and we are delighted that he has joined us!
Upcoming, we will lead a workshop at the Jazz School in Berkeley, California, on Sunday, August 14, featuring lots of fun tips on vocal technique, vocal health, how to sing with a jazz trio and how to sing in a vocal jazz group. That night we will travel to San Jose, to appear at Cafe Stritch for one glorious set. On Sunday, October 16, we will be appearing at the Jazz Room series at William Paterson University, with the Royal Bopster Bob Dorough.
I have also been invited back to Veneto Jazz Festival and Summer Workshop for my 9th year in a row! Our faculty performs in the festival, leads classes each day, jam sessions each night, and there is a concert under the stars at the end of the week for the students. This all takes place in gorgeous Chioggia, Italy, a charming fishing village on the Adriatic Sea, just a one hour drive from Marco Polo Airport in Venice. It is heavenly! There is still time to enroll, please visit venetojazz.com/en and come to Italy with me!
Please check the Performances page for details and I hope to see you at these future events.
xoAmy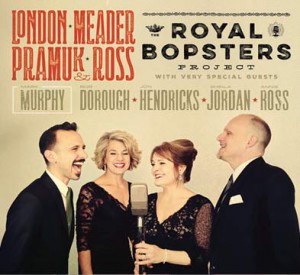 We are proud to announce the release of The Royal Bopsters Project.
Marking a powerful cultural moment, this historic recording features five super legends of vocal jazz – and introduces a highly polished new vocal jazz quartet led by Motéma artist Amy London, with Darmon Meader (of the New York Voices), veteran vocalist Holli Ross and newcomer vocalist and arranger, Dylan Pramuk.
The record also features five of the most influential jazz legends of all time – Mark Murphy, Bob Dorough, Jon Hendricks, Sheila Jordan and Annie Ross!